Amazon KDP Free Promotion Results and the New Beta Pricing Suggestion Tool
Well, the KDP Free book promotion is over, the results are in, the downloads have been counted and verified and I can now announce the results.
It made number #1 in the amazon bookstore for a number of categories. I am aware that this is only the start and I have a lot of work to do to get the book into the top of the amazon best sellers in the paid results which means it is making money. However, this was a good start, and I am told that, as the reviews come in, it will help to start the sales coming in.
I listed the book two weeks ago and enrolled it into KDP Select program which allows you to do a free download promotion for 5 days out of 90 days. This is the minimum time it has to be in the select program and you are not allowed to sell it on any other platform while it is in the program.
I decided to go for 3 days Friday, Saturday and Sunday, although based on the results below, I think I would only do a 2 day promotion next time.
There were a total of 941 downloads over the 3 day period. The promotion ran from Friday 15th April to Sunday 17th.
Here is the daily report
I have to say that I was quite please with this. I have heard a lot of different number bandied about when it come so these free promotional days so did not know what to expect. It is a shame that it did not break the thousand mark but as it reached #400 in all amazon best seller list (for free books) on amazon.com and #745 on amazon.co.uk I was happy. Geoff Shaw says in his 5minute publishing course that you aim to get a ranking of under 1,000 and I well beat that so happy days.
It got to number one on Amazon.com in a few hours which was a shocker and started out at number two on Amazon.co.uk before hitting number one on Saturday afternoon9the second day) as well.
This was a screenshot from Saturday morning about 10 am (UK time)
It got to number one on Saturday afternoon and held that position until the promotion finished.
The image below shows the book ranking at #1 in marketing and you can also just see that it is ranked at #469 in the amazon best seller rank. The book climbed higher and got to about #340 but I did not get a screenshot of this
As I already mentioned, the aim is to get below 1,000 in the best seller overall ranking and we achieved that in both the US and the UK. I was tempted to end the promotion early as per the instructions in the 5minute publishing course but I did not as I had spent so much time advertising the weekend promotion that I thought people would get pi***d off if they went to the site and it was now at full price.
How I Got the Word out there about the promotion
I had an extensive list of websites that you can submit your free book promotion to, and I got a member of my team to start submitting to them a week before the launch date. We also made a separate list of the sites and FB groups that you can only submit to on the day.
There are a number of them that you can pay to promote your book but as I had no idea of the value and I do not know a way to track them, I did pay for any submissions (apart from a submission service)
Paid options
Fiverr
I looked at fiverr and chose one gig that had some great reviews. Again like all of the different methods I used, I have no idea how well it did as I cannot track amazon visitors to find out where they came from.
Submission Service
I used a book submission service that simplifies the process of submitting your book to about 35 websites. It is not fully automated and you still have to go to the sites to enter the captcha and submit the information. The problem is I cannot for the life of me remember which of these services it was!! When I do find it I will edit this post and let you know.
I also tried the KBook Promotions software. This sends details of your book to 21 different free book promotion websites. They have a 5 day trial offer which I used for this so it did not cost anything. For my needs I am not sure it is worth the $27 per month as I do not need a lot of the services that the software offers. I could not get the FB posting program to work. I wanted it to help me post to some of the groups that allow the free promotions but when I tried to use it, the post did not include the preview of the web site which was no good as I wanted the image of the book to display.
My main worry was that I did not want to get blocked for spamming so I had to make a list of all of the websites that these two services submitted to and then separate them from the list I had made from searching google for lists of sites and then compiling them, removing duplicates and removing sites that did not accept non fiction.
This was time consuming but I won't need to do it again for the next promotion or launch.
I ended up getting one of my team to add the posts to the groups manually which was much safer as I had them make sure they only posted in the relevant sections on some pages.
Unpaid Marketing
Social Media
Twitter
We setup some tweets, although I did not do a very good job of this overall and don't think that this helped much. I will work on my twitter strategy next time I run a promotion and have already begun following accounts related to kindle publishing as well as those related to my target market.
Facebook
I am a member of quite a few facebook groups for authors and that are related to kindle publishing. Pat's First Kindle Book (From Start to Finish) was the first one I joined and have found some great help and advice. There are quite a few active groups related to publishing and writing which I tend to check out and there are a few real experts hiding away that pop up with some real words of wisdom. I still have a lot to learn but need to do more than I read so trying to restrict my time on FB as it sucks you in and before you know it an hour or so has passed by.
I posted on most of the groups, I am in, about my efforts and asked plenty of people for advice.  I also posted details of the free promotion on the groups and offered the chance to win a Kindle fire for those that left me a review.
Not everyone was as excited as me about my book launch, Strange that 🙂 and, not everyone was interested in the topic and were not absolutely gagging to download it which was also a shock 😉
I also added updates to the groups and was very excited when it went to Amazons number one, in the free books section. I got a lot of support and encouragement which was great. Sitting here behind a computer a lot of the day can be a lonely place and to those kind words did motivate me to keep at it over the weekend.
It was also important not get on everyone's nerves by posting to many promotional posts. Getting a balance and not getting your posts removed or worse banned from a group was important to me. Not sure if I got it right but I never got banned from any of the groups which was a blessing although a couple of posts did get deleted. On the whole I think I got it right.
Incentive
I thought that rather than spend the money on PPC I would offer those that downloaded the book a Kindle Fire.
So I created an incentive to encourage people to leave me a review. I offered the chance to win an Amazon Kindle Fire. The idea is that everyone who leaves a review will be entered into a draw and one reviewer name will be pulled out of a hat and will be sent a brand new Kindle fire in 7 days from the end of the promotion.
I have yet to see how effective this has been. As I write this 18th, it is only one day after the promotion so can't expect too much yet.
Pricing
I first decided on the price of $7.99.
The were several reasons for this:
I was thinking that people perceive high cost with high value and thought, that at the higher end of the books in the category, @ $7.99 people would think it would believe at that price it has to be good.
I thought that people would be more likely to take advantage of the free KDP promotion if the book was normally priced at  $7.99 rather than 0.99c
I thought that the time and effort that has gone into the book it is well worth $7.99 (and still do for that matter)
I now believe that this strategy was wrong.
The aim is to get as many people downloading the book as possible and getting feedback on it. At $7.99 this is not an impulse buy and there are a lot of other books on the subject that are priced a lot lower than mine. At a lower price people are more likely to take a punt and hopefully find it of value.
Also, this is my first book and as such I have no history or credibility yet and, whilst I may believe that the book is worth the money, I am not the one buying it.
There are a few books on Social media marketing that are more expensive, there are a lot that are cheaper. Why would anyone want to spend double to buy my book when there are other cheaper options available?
Lastly, when I went into my dashboard, I found a link to what I believe to be a new service that looks at other books in your category and advises you on the best price to use.
I had already decided to drop the price to $4.99 at 35% but when I went into edit it I noticed amazon had a new tool. I believe it is reasonably new as it is still in beta. I ran the tool and it suggested $2.99 at 70% and at a click of a button it changes the price for you. So I thats what I did. I clicked it and now I am sat at $2.99. I will now also make more profit at the lower rate with the higher commission. I still am not sure whether this is the right price point yet but I will leave it here for a while and see how it goes and then slowly raise it again.
Commision Rates
When setting the price depending on what it is you can choose to take 35% or 70%. I had an idea or maybe I read it, that if you took a lower commission and Amazon earnt more they would promote it harder? On retrospect this is probably naive of me but you never know 🙂
I have gone of the commission rates and the only time I can see the benefit of reducing your commission is if the book has a lot of graphics which means the file size will be much bigger then my 139 page book at 898kb. Amazon charge for downloads on books that have a larger file size. So, if you are making a lot of sales and your book has a lot of graphics and photos in it then it may well be worth going for the 35% option apart from that I am going to stick with 70%.
Where Did I learn this from – Anti Procrastinating
After a great deal of time procrastinating I finally decided to get of my backside and get it published. I had bought a number of books and courses on amazon publishing, and Udemy courses to convince myself I was busy learning, but found that the more that I read, the more conflicted I became.
A lot of the stuff out there is of no real value, and teach you nothing that I did not already know. Really basic common sense stuff. There were a couple of great blogs out there that provided some real value and great advice for free.
Secifically, kindlepreneur.com  and tckpublishing.com were really good. I got real value from both of these sites and together with the help and advice from Pat Flynn's FB group as well as a few others I got started.
Problems – Not Able To Track
The biggest issue, is that I do not know how to track each of the methods that I used to see which ones are worth doing again. I don't think there is a way to track the people that download your book from Amazon?
The problem is, of course, that I don't know what to do next time for the best so I really need to look into this and find a way to monitor these promotions better.
You are welcome to leave your feedback in the comments below.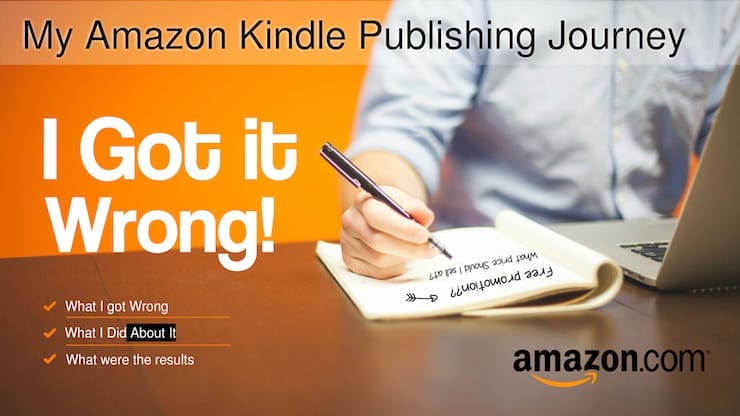 Amazon KDP Price Suggestion Tool Video
/>